Engagement cakes are becoming a new way of celebrating the beginning of a new journey with your partner. In India earlier we used to eat different kinds of Indian sweets and beverages in engagement but as time goes it shifted to cakes. The main purpose is to eat something sweet whether it's cake or something else to remember these beautiful moments for a long time.
There are multiple types and designer's cakes available in the market. So it's hard to choose the best one for your engagement. However, our wedding photography team in Kolkata finds some great cake designs for your special day
1.  Elegant Red Rose Covered Engagement Cake Design
Roses are given to express the feeling of love to another person. It's not only a regular flower, it's a symbol of the unbound love of the bride and groom. The three to two tiers cake with rose looks perfect where some regular red roses are covering one side of the cake. The roses can be attached like it's going to cover the full cake in some hours. When it comes to the base this cake only looks good on a light-coloured base whether it's white, blue, pink, or any kind of light shade colour. It's the most romantic cake design out there and most recommended by the wedding photography team in Kolkata.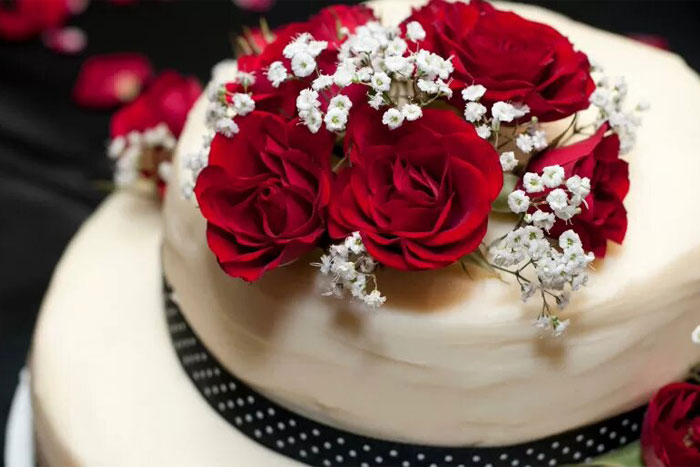 Image Courtesy : jurden / iStock via Getty Images
2.
Simple & Sophisticated Single Tier Cake Design
If you're running out of time or if you have a very tight budget then single tier Cake might be perfect for you. It's cheaper than big cakes but still matches the flavour of big cakes. It might not be enough for all your family members because India has very big families. Still, it's going to be enough for your love once taste buds. The single-tier cake is also much easier to decorate plus it gives freedom to more creative touch. All those things make this cake best for starting your journey with a sweet and simple touch.
Recommended: Top 10 Haldi poses for bride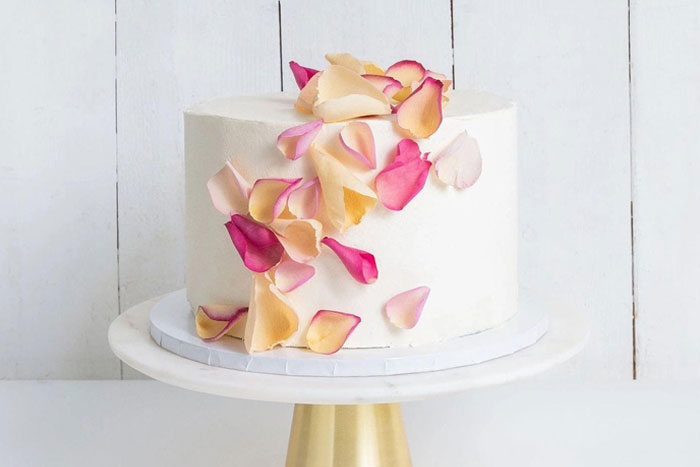 Image Courtesy: Hitched
3. Try something different with Chandelier Engagement Cakes Design
This is one of the unique style cakes hardly seen by anyone from your family. This cake has recently become popular because of obvious reasons. It might not look good in photos but whenever you see it in real life, you are probably going to love it. This is an upside-down hanging cake that looks amazing with delicious stuffing and a beautiful design. The cake hangs in the air with a metal frame. It's also customizable and comes with different designs. Be gentle with this cake because it's different from normal cakes and children might damage some part of it.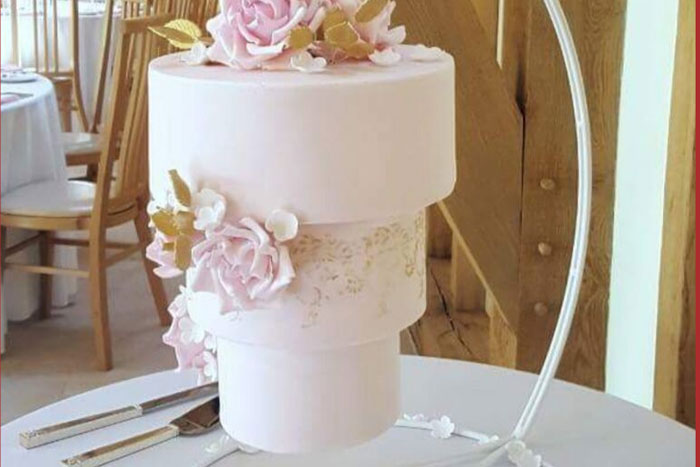 Image Courtesy: kingdom of cakes
4.
Shining Gold Palette Engagement Cake Design
Who doesn't like shining engagement cakes? It's worth the engagement ceremony. After All, it's the most special day for a couple so it should be celebrated with a shine. There are two types of shining cakes available in the market: a three-tier cake with a black and gold combination and a multiple-tier cake with a white and gold combination. You can choose either of them, both look great and give you the royal, luxurious feel in your engagement ceremony hall. In addition, the vintage royal designs make it look richer in terms of flowers and looks.
Recommended: 15 Food Items you must serve at a Bengali wedding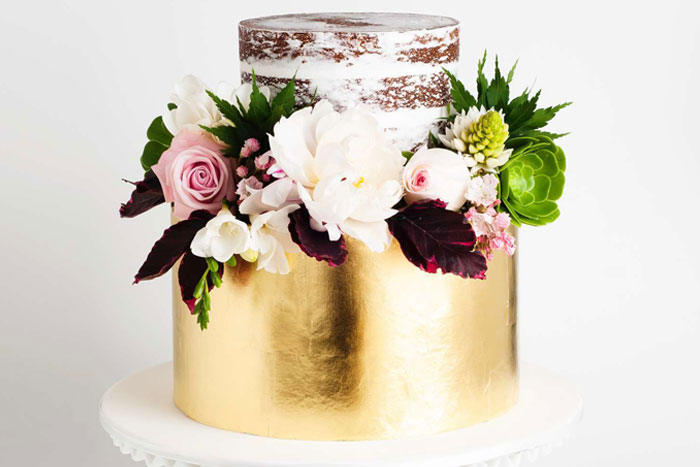 Image Courtesy: SOTIRIA MCDONALD PHOTOGRAPHY,
5. Charming Floral Engagement Cake Design
Floral cakes are the most used engagement cakes all over the world. This cake is covered with full flowers and leaves on the top, middle, and bottom sections. The cake looks even greater when the flowers are used in different colours and combinations, especially with green leaves. This cake looks great with any kind of base design but the simple base is most preferably by the best wedding photographer in Kolkata for some great portrait photos.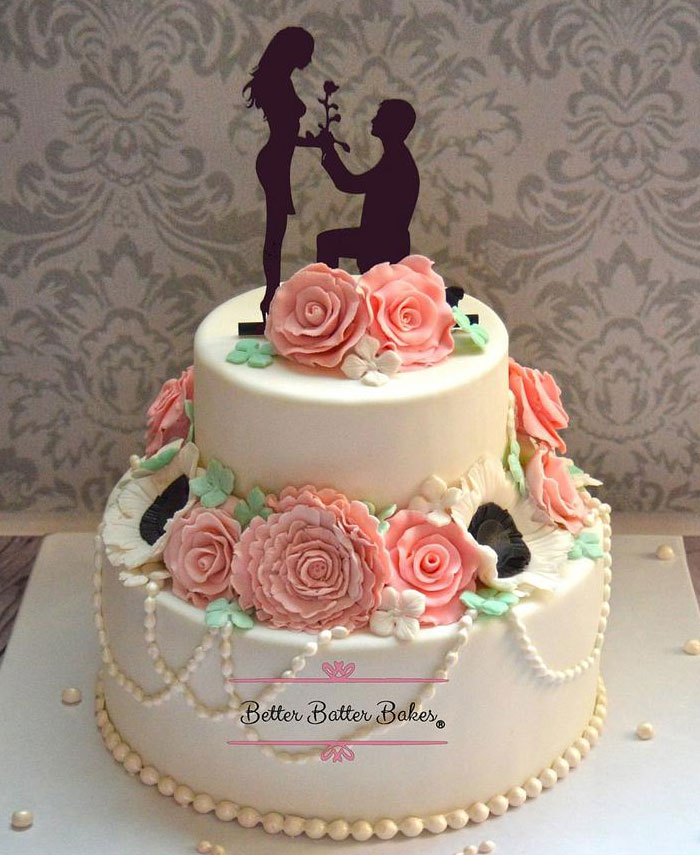 Image Courtesy: Better Batter Bakes
6.
Multiple Flavour Engagement Cake Design
Are you a food lover like all of us? You probably love eating cake as much as throwing it on other people. There are cakes that come in multiple different flavours, the same as ice cream flavour like chocolate, strawberry, vanilla, and many more. But most people just order it without enquiring about the other flavour. You can save your special day from this disaster just by selecting the right flavour combinations for your cake. Although cake design is important for looks although taste also plays a major role. The engagement cake should be perfect in both terms of taste and design.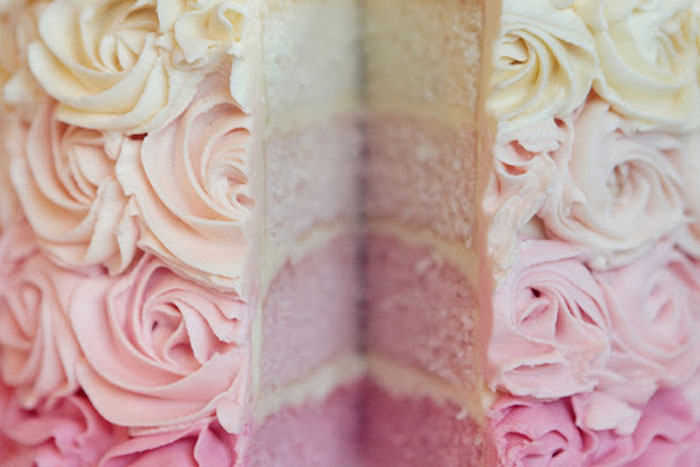 Image Courtesy: My Wedding
7.
Grand Storyteller Engagement Cake Design
Every wedding has a different story and the engagement cake is the best blank space to portray it. If you want to show your full story on the cake so that everyone can feel the emotions and bond of the bride and groom then this is the best thing you can do with your cake. The three tiers cake is perfect for you here you can showcase your full love story with images, dates, and designs. Here you get the big space to make your story more fascinating and real for others plus it looks very sweet for you and the best wedding photographer in Kolkata.
Recommended: Get affordable wedding photography packages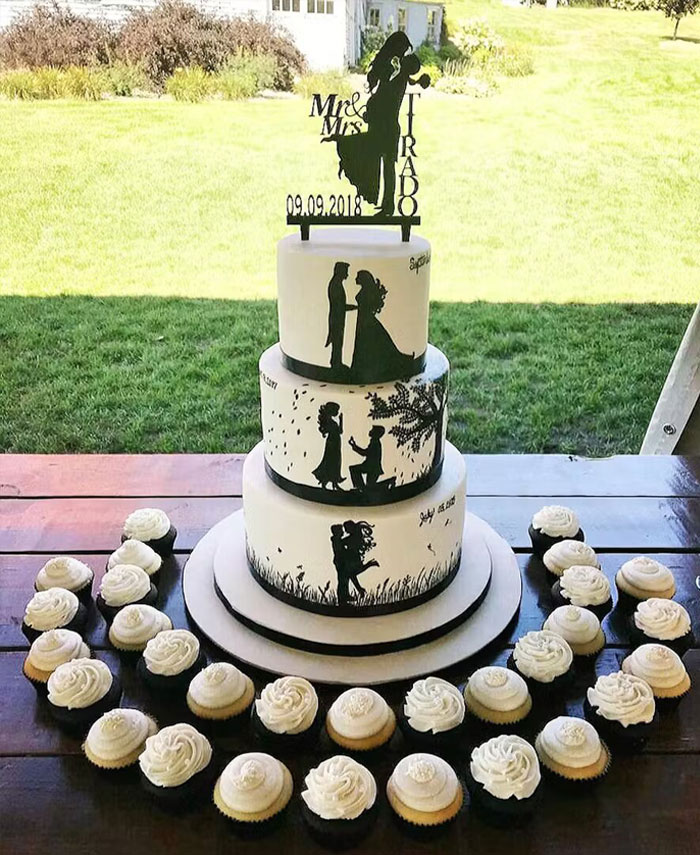 Image Courtesy: Qpid India
8.
Heart Shaped Engagement Cake Design
Heart-shaped designs have also been used for decades in foreign countries in their wedding ceremonies and it's getting more popular nowadays in India. The heart-shaped design is perfect for showing the love chemistry of the new couple. It's a simple cake with some dashing on the sides and the top of the cake. Some designers even add some flowers, and a couple of dolls and write the name of couples to make it more beautiful. It's up to you to choose which type of decoration you want on your cake but remember that its simplicity is its biggest advantage.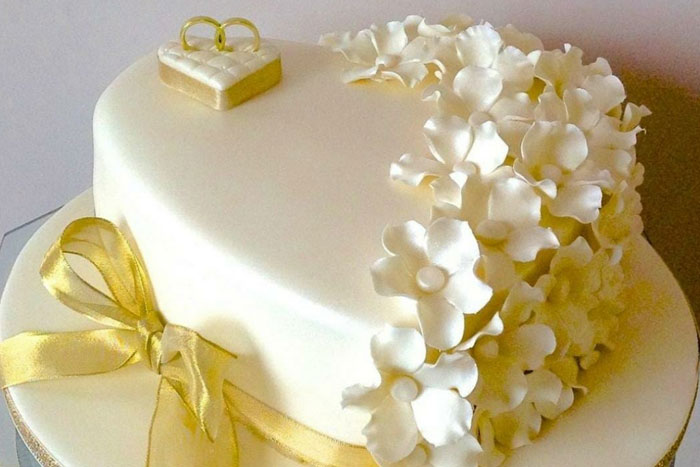 Image Courtesy: Parfait Cakes
9. Personalize Theme Engagement Cake Design
There are multiple types and themes available in the market for your engagement cake design you can choose any of them as per your interest. Engagement is a fun moment and most importantly it's your time whichever cake you choose it's totally up to you. There are some funky design cakes, some are simply one. But mostly in engagement a simple cake is preferred because it's evergreen and loved by everyone plus its price is reasonable. If you are still confused, many cake makers love to know your ideas for your engagement cake. Although you can even design your cake with them. As a couple, you can work on your cake with the help of professionals to create something unique only for your special day.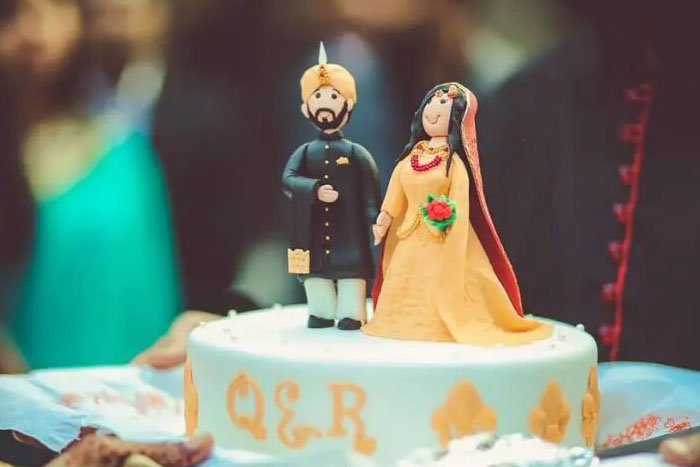 Image Courtesy: Wedding Wire
10. 
Full Sweet Pink Engagement Cake Design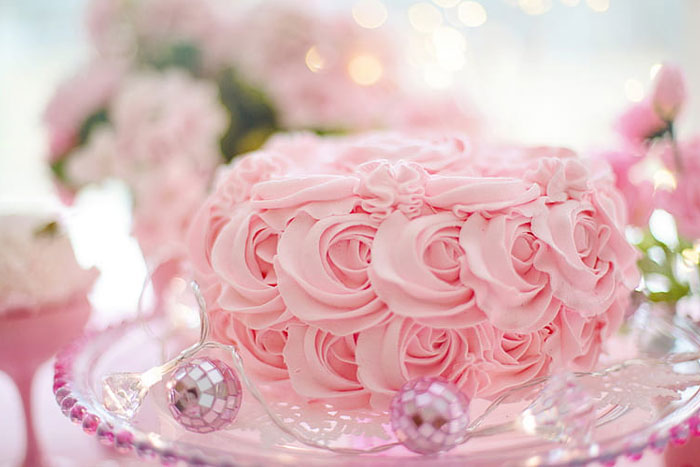 Image Courtesy: peakpx
If you are looking for something magical then the full pink engagement cake design is perfect for you. Its fairy tale vibes can make anyone happy. This is the prettiest cake by its looks and taste. Although some pink flower is also added on the top as well for increasing its overall beauty. When you look at this cake from a distance it might look like a beautiful gown that perfectly contrasts with the bride's clothes. Overall it's a great engagement cake for every happy couple.