People are well aware of the fact that Bengali weddings are an amalgamation of the eternal love affair between their culture and food. These days, several other events and photography have also added to the grand celebration. People look for the best wedding photographer in Kolkata for wedding photography in Kolkata. But, nothing can be complete without the delicious cuisine.
1. Mochar Chop or Banana Flower Cutlet
Banana flower cutlet or mochar Chop is a palatable Bengali starter. It is prepared by keeping the subtle balance of boiled banana flowers in mind with the sweet ginger crunch and raisins from the deep-fried outer coating. This recipe is prepared by selected spices and it all together brings a whole new taste in a plate that makes you crave for it more.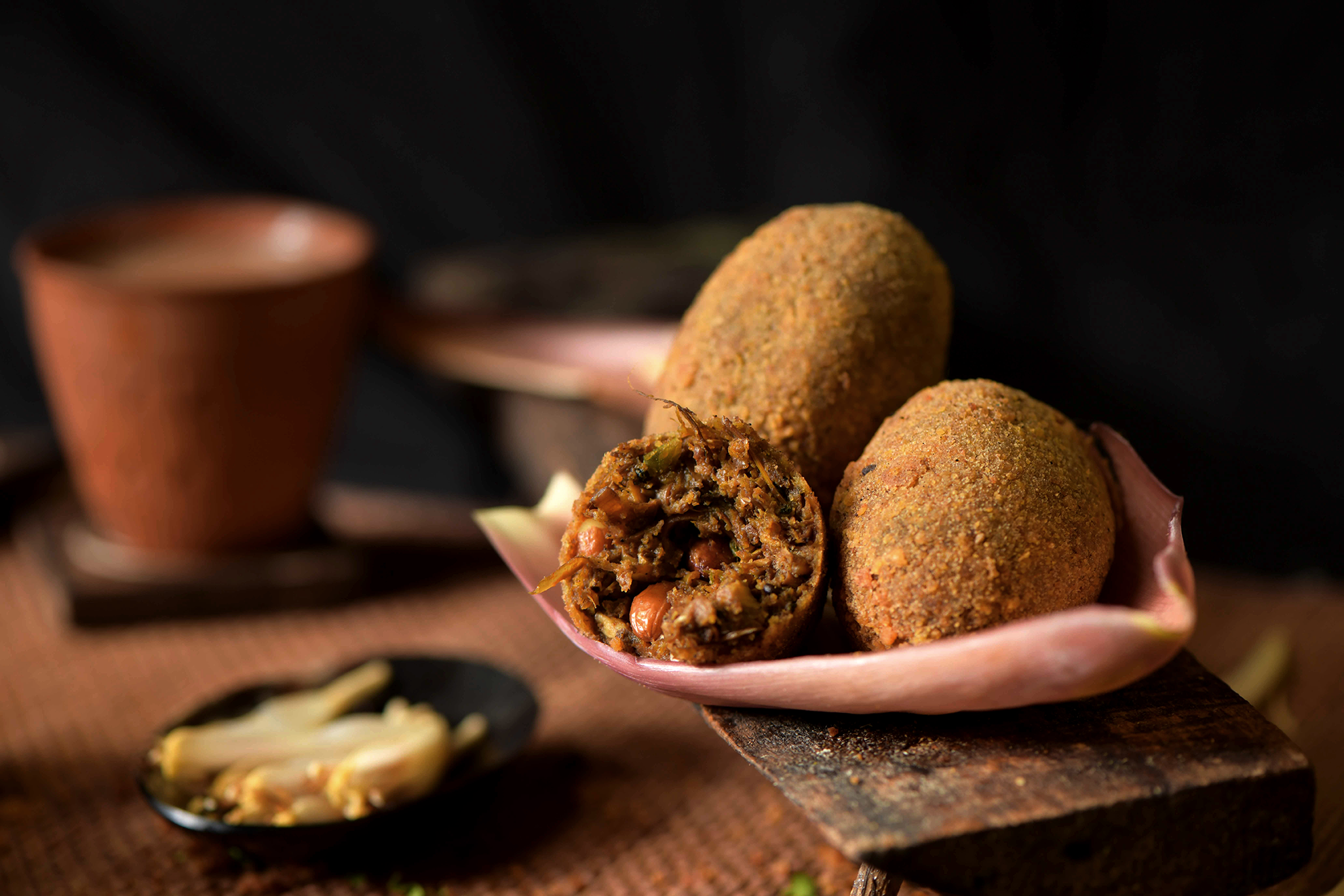 Image Source: https://mrinalinisardar.com/portfolio/dadas-chops-branding-bengali-street-cuisine/
2. Macher Chop or Fish Fry
Macher Chop or fish fry is a typical Bengali cocktail snack. It is one of those recipes that one cannot ignore at a Bengali wedding. It is a deep-fried potato casing stuffed with spicy fish filling. It goes best with kasundi or mustard sauce and with a pinch of lemon and finely sliced onion.
Image Source: https://www.zappfresh.com/blog/recipes/bengali-bhetki-fish-fry-kolkata-bhetki-cutlet/
For the best pre wedding photographer in Kolkata, make sure to reach out to our professionals for a beautiful yet subtle photography experience at an affordable price.
3. Begun Bhaja or Brinjal Fry
This is a delicious appetizer that can well be served with poori. It is slices of brinjal coated in spices and pan-fried until it is crisp and crunchy.
Image Source: https://recipes.timesofindia.com/
4. Koraishutir Kochuri With Aloo Dum
Lucchi (puri) is stuffed and it is known as Kochuri. This dish implies a filler of mashed peas in the Kochuri. It is well consumed with aloo dum – baby potatoes within a tangy curry.
Image Source: https://www.youtube.com/watch?v=QFI5GTzKIIk
5. Potoler Dorma
Potol in Bengali refers to gourds while Dorma represents stuffed veggies. It is cooked by stuffing the green gourd with mutton, prawns, or fish, but can likewise be vegetarian by adding paneer with dry fruits like a stuffing.
Image Source: https://in.pinterest.com/pin/471681760978315848/
6. Dhokar Dalna
Dhokar Dalna refers to a standard Bengali recipe that is cooked from spiced lentil cakes or chana dal koftas that are fried and soaked in curry with tomatoes, onions, and coconut. It can likewise be cooked dry.
Image Source: https://www.bongeats.com/recipe/dhokar-dalna
7. Fish Paturi
It is a fish covered within a banana leaf. The fish is marinated with curd, mustard paste, and spices before being cooked within the banana leaf. This recipe can be cooked best with vetki or hilsa fish.
Image Source: https://www.vogue.in/vogue-cookbook/collection/how-to-make-bengali-bhetki-paturi-recipe-steamed-fish-in-mustard-sauce/
8. Basanti Pulao
This is one of the best dishes in a Bengali wedding. It is a sweet to spicy recipe that is loved by bengalis. This dish is given at all Bengali celebrations. It is a yellow pulao with sweet undertones. You can eat it with spicy mutton or chicken curry to bring a balance.
Image Source: https://tv9bangla.com/lifestyle/food/how-to-make-basanti-pulao-at-home-try-this-recipe-517231.html
9. Kosha Mangsho
This is the name of a popular mutton recipe in Bengali. It is one of the most common items served in a bengali wedding. Chunks of potatoes, garlic and goat meat are cooked in a spicy gravy along with mustard oil, tomatoes, and yoghurt. The spicy recipe is a must-have cuisine at any event.
Image Source: https://www.bongeats.com/recipe/mutton-kosha
10. Kolkata Biryani
This refers to a selected Mughlai biryani that Kolkata is famous for. Its taste is somewhat distinct and stands out as of the use of potato with the meat. It is served ideally with Boondi raita or a non-veg gravy-like creamy butter chicken.
Image Source: https://www.youtube.com/watch?v=uEaczlQKzok
11. Chingri Malaikari
This is a popular recipe where you cook prawn with coconut milk and serve it with rice. This is a famous dish served with rich spicy gravy and coconut milk or cream. It refers to an entrée best served with pulao or white rice for particular occasions.
Image Source: https://www.youtube.com/watch?v=AtD1DRXFW_8
12. Chicken Chaap
This is a Bengali Mughlai recipe where large pieces of chicken are marinated within a spicy gravy and cooked with poppy seed-based gravy. You can serve it with pulao, Biryani on naan.
Image Source: https://www.crazymasalafood.com/top-20-dishes-can-dumdum/
13. Mishti Doi
Dahi or sweet curd, also referred to as Mishti doi by Bengalis, is a fermented sweet yogurt made with jaggery and milk. It is not a dessert item but happens to be an emotion for the Bengalis. You can add elaichi for fragrance. If you are a Bengali, you will know the importance of this dish for a Bengali wedding.
Image Source: https://www.scoopwhoop.com/food/mishti-doi-during-durga-puja/
14. Sandesh
Sandesh is a popular Bengali desert created with cottage cheese, sugar and milk. It is one of the must-have items at a Bengali wedding. It sounds best when you call it in the Bengali way. This item is one of the most celebrated sweets of West Bengal and is available in various variants.
Image Source: http://dev.thecitizen.in/en/NewsDetail/index/9/15097/Sandesh-to-Ledikeni-Named-After-Lady-Canning-Delhi-Does-Bengali-Sweets-Proud
15. Rosogolla
Rosogolla, also known as rasgulla in other parts of India, is the most famous Bengali sweet dish. Chenna dumplings are dipped in sugar syrup and served as a dessert at Bengali weddings. It is one of the main reasons why people look forward to visiting Kolkata every now and then. Being one of the best desserts of Bengalis, it is a must-have item at a Bengali wedding.
These were the top 15 must-have Bengali food items at a Bengali wedding. If you are getting married soon and looking for wedding inspiration, you've come to the right place. Apart from that, if you're looking for affordable wedding photography packages in Kolkata, feel free to contact us for the best wedding photographers in Kolkata to make your wedding a memorable one.
Image Source: https://www.scoopwhoop.com/food/mishti-doi-during-durga-puja/
The Bengali wedding food menu is much like a multicast star film where the main character is the fish, but the others play a strong role as well. Be it hiring the best wedding photographers in Kolkata, or booking an event management company, there's a lot to Bengali weddings. Today, we are here to discuss the palatable Bengali cuisines that are must served at weddings. Presenting the top 15 must-serve dishes at a Bengali wedding.